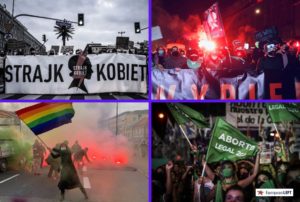 European Left, starter en kampagne for at støtte de polske kvinders kamp for fri abort, omtalt som en strejke: "Strajk Kobiet".
De polske kvinder har både i oktober/november og igen nu organiseret store demonstrationer mod den højrenationale regerings stramme forbud mod abort. Kampen for fri abort er igen blevet en international kamp, idet det fx for nylig lykkedes kvinderne i Argentina at tilkæmpe sig retten til abort.
Kampagnen lanceres officielt omkring 1. marts som optakt til 8. marts, kvindernes internationale kampdag. Men allerede den 18. februar arrangerer Iratzar, det baskiske medlem af transform!europe, et webinar, "Bad Girls and Disobedient Wombs".
Den 4. marts arrangerer Naprzód, transform medlem i Polen, et webinar med overskriften Our Bodies – Our Choice – Our Decisions, hvor de viser en film om de polske kvinders kamp. Læs mere om webinaret og tilmeld dig her Our Bodies – Our Choice – Our Decisions
Læs European Left's resolution i forbindelse med vedtagelsen af kampagnen 31. januar: The EL supports abortion rights for polish women.
Transform!europe samarbejder med European Left.
Vi opdaterer løbende med kampagnens aktiviteter.
Se iøvrigt info på transform!europe's hjemmeside