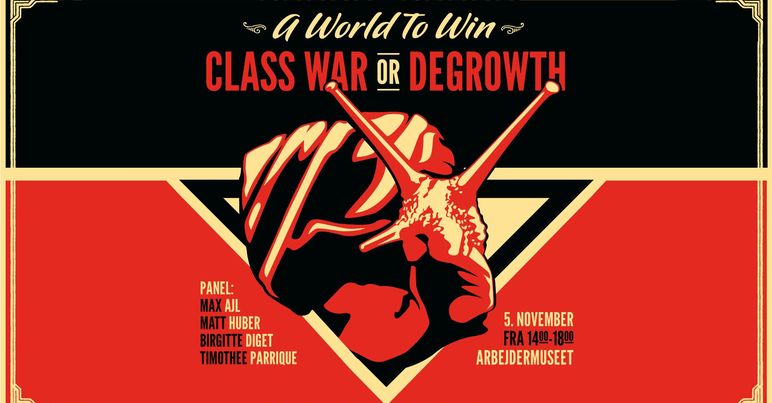 Konference: De sidste par år er 'modvækst' blevet diskuteret vidt og bredt blandt klimaaktivister og forskere, der med et opgør af vækstparadigmet har tilføjet en ny systemkritik på venstrefløjen.
Men spørgsmålet er om denne tilgang overser venstrefløjens oprindelige klassekamp?
Det er spørgsmålet som denne konference vil rejse og stille skarpt på.
For vi er alle enige om at der er en verden at vinde.
Tid: Lørdag den 5. november kl. 14 til 18
Sted: Arbejdermuseets festsal, Rømersgade 22, 1362 København K
NB! Se video fra mødet nederst i indlægget
English below.
Til konferencen har vi inviteret 4 oplægsholdere og debattører, der fra hvert deres ståsted argumenterer om vejen skal gå igennem klassekamp eller modvækst. De fire introduceres her:
Matthew T. Huber er en amerikansk forfatter og professor fra Syracuse University med speciale i marxisme, energi og ressourcer.
Matthew udgav i sommeren bogen Climate Change as Class War, som sigter mod at reorientere klimabevægelsen væk fra den professionelle klasse og over til arbejderne igen.
Max Ajl er en tunesisk forfatter og post. doc på Wageningen University, hvor han undersøger fødevarer, dekolonialisme og afhængighedsteorier. Senest har Max udgivet bogen A People's Green New Deal, hvori han udfordrer ideer om 'green new deal' og foreslår et alternativ, der bygger på "decommodification, working-class power og agro-ecology".
Timothee Parrique er en fransk forfatter og researcher fra Lunds Universitet, hvor han forsker i 'political economy of degrowth'. I september udgav han en bog om modvækst, Relentir ou p´erir, der udfordrer vækstparadigmet og stiller ultimatummet: Sæt farten ned eller dø.
Birgitte Diget er en dansk klimaaktivist og har deltaget i debatter omkring modvækst, arrangeret klimacamps og organiseret aktive i klimabevægelsen i en årrække. Hun er en del af Global Aktions klimagruppe, der samarbejder med småbønder i Østafrika om modstanden mod storkapitalens indtrængning på lokale fødevaresystemer.
Konferencen koster 50 kroner, som bedes overføres til mobilepay nummeret 53705. Skriv gerne "A world to Win" i tekstfeltet.
Der kan også betales i indgangen på dagen, hvis ikke der er udsolgt.
Hvis du har udfordringer med at betale, men gerne vil med, så skriv til os, og vi finder en løsning.
Konferencen arrangeres af Transform! Danmark og Global Aktion.
———————————————-
Conference: Over the last years, discussions around degrowth have gained traction among both climate activists and scientists. The questioning of capitalism's eternal growth paradigm has added a new systemic critique the left wing.
But the question is whether this approach overlooks the original class war of the left?
This is the key question the conference will try and shed light on.
Because we all agree that there is a world to win
Time: Saturday 5 November at 14 to 18
Place: Arbejdermuseets festsal, Rømersgade 22, 1362 København K
We have invited 4 presenters and debaters to the conference, who argue from each point of view whether the path must be through class war or degrowth. The four are introduced here:
Matthew T. Huber is an American author and professor at Syracuse University specializing in Marxism, energy and resources. In the summer, Matthew published the book Climate Change as Class War, which aims to reorient the climate movement away from the professional class and towards the workers again.
Max Ajl is a Tunisian writer and postdoc at Wageningen University, where he researches foodsystems, decolonialism and dependency theories. Most recently, Max has published the book ' People's Green New Deal, in which he challenges ideas about the 'green new deal' and proposes an alternative deal based on 'decommodification, working-class power and agro-ecology'
Timothee Parrique is a French writer and researcher from Lund University, where he researches the 'political economy of degrowth'. In September, he published a book on counter-growth, Relentir ou p´erir, that challenges the growth paradigm and issues the ultimatum: Slow down or die.
Birgitte Diget is a Danish climate activist and master in geography from Copenhagen University who has participated in debates about degrowth, organized climate camps and protests in the climate movement for a number of years. She is part of Global Aktion's climate group, which collaborates with small farmers in East Africa regarding the resistance to big capital's intrusion on local food systems.
Practical
The conference costs DKK 50, which can be transfered on mobilepay: 53705.
Write "A world to Win' in the text field.
You can also pay at the entrance on the day if it is not sold out.<
If you struggle for paying that amount of money, please reach out and we will find a solution.
The conference is made by Transform!Danmark og Global Aktion.
Video fra mødet
Se her en video af det spændende møde:
A world to win – class war or degrowth?